Exilis Ultra 360 is a device incorporates with radio frequency and  ultrasound. Skin laxity or lose skin is not something uncommon. In fact, it is a common body concern to many. The skin, body's largest organ, and like the other organs, its health is affected by various factors including age, exposure to toxins, harsh weather, nutrient deficiencies, and poor lifestyle choices like smoking.                           
BTL Exilis 360 is a state-of-the-art FDA approved device that incorporates radio frequency and ultrasound to tighten skin and address body concerns. It has an excellent safety profile and is safe. BTL Exilis can treat multiple areas from head to toe in no time. The BTL EXILIS treatment is ideal for any adult patient looking for cosmetic improvement on their face and body.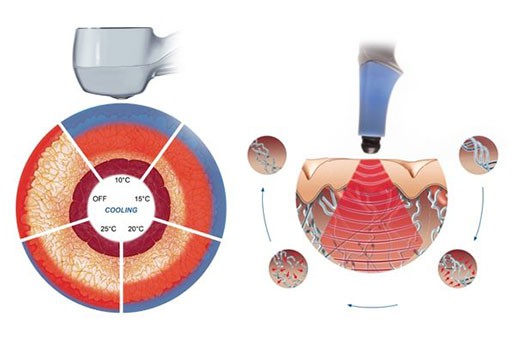 Controlled heating and cooling ensure that energy is delivered to various depths in the tissue. Changing power and cooling during treatment allows the treatment of deep tissue all the way up to the superficial layer.
A handheld probe emitting controlled heating and cooling energy is applied to various areas of concern to allow penetration of energy to superficial and also deep tissue layers. Skin temperatures are controlled throughout the entire session for utmost safety.
Exilis Ultra 360 Treatment Process
Frequently Asked Question
The BTL EXILIS adheres to a strict safety standard. The embedded Energy Flow Control system controls the exact amount of energy delivered along with integrated cooling allows targeted heat to proper skin depth to achieve the best results, while maintaining patient comfort at all time.
How many treatments do I need?
Our trained aesthetic physicians would review thoroughly your body analysis and a treatment plan based on your individual needs would be tailored. Most patients undergo between 2 to 6 treatments scheduled on a weekly basis. Each treatment of a specific body part usually takes between 15 to 30 minutes. This can vary depending on the treated area, treated indication, and other factors.
Would I need to change my dietary and personal habits?
You will not be required to exercise or alter your dietary habits. However, our doctors would outline a comprehensive dietary and physical activity chart to boost your metabolism for a faster results.
Would you like to know more?
Schedule A Free Consultation Now
Alternatively you can give us a call at +60379321818