Difference between anti wrinkle and filler
The question of which anti-wrinkle injections or dermal fillers are the best seems to be the subject of much debate. There is an increasing number of people choosing for discreet cosmetic treatments rather than major cosmetic surgery in order to achieve a more youthful appearance. Learn more about both alternatives of anti-wrinkle injections and dermal fillers in this article.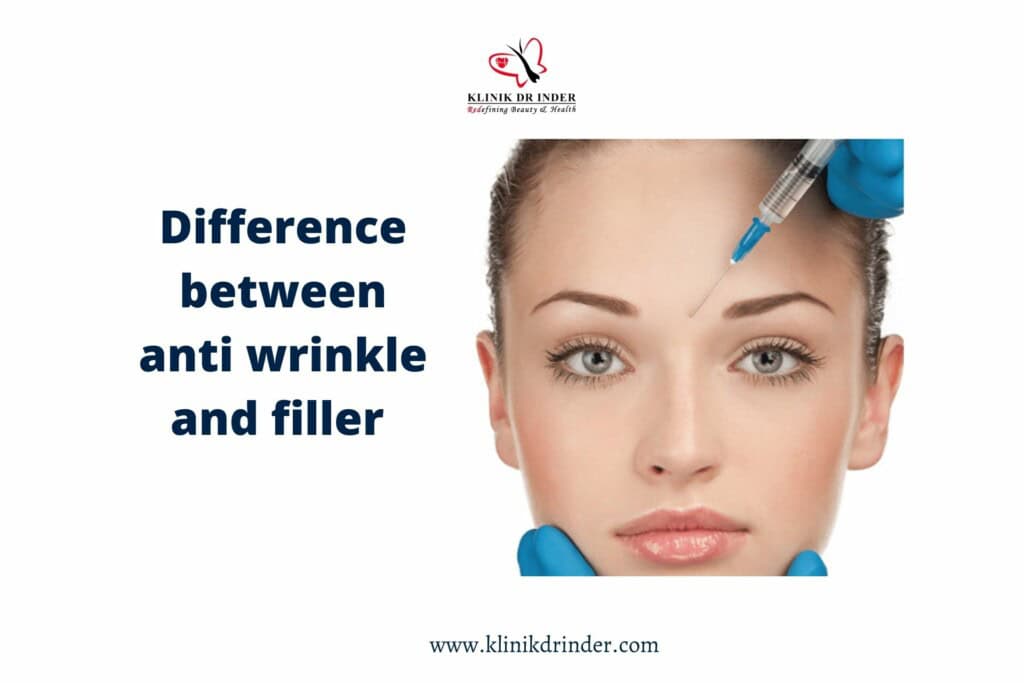 What are Anti-Wrinkle Injections & Dermal Fillers
To temporarily relax the facial muscles, a refined protein known as Botulinum toxin, popularly known as anti-wrinkle injections, is injected into the area being treated. The look of wrinkles and fine lines is improved as a result of this. anti-wrinkle injections has become one of the most sought-after treatments for individuals who wish to prevent or repair the affects of ageing on their face. Hyperhidrosis, a medical disorder caused by excessive sweating, can be treated using this device (excessive sweating).
A more youthful appearance can be achieved using dermal fillers, which are used to increase volume to areas of the skin that have deeper creases and folds. Because hyaluronic acid is depleted as we age, this may be accomplished by injecting the skin with it.
To put it simply, anti-wrinkle injections relax muscles and dermal fillers add volume.
Understanding the similarities and differences between the two anti-aging treatments
Cosmetic injections are used in both procedures.
Medical professionals use syringe and needles to deliver them.
Effective anti-aging therapies are the goal of these procedures.
Differences between anti wrinkle and filler
Dermal fillers are used to fill and plump out the skin to decrease the appearance of lines and wrinkles.
Relaxing facial muscles with anti-wrinkle injections helps to prevent new wrinkles from emerging while also smoothing out existing wrinkles.
There are just a few face muscles that anti-wrinkle injections may be delivered to. You'll notice a noticeable improvement in your skin's texture and appearance between three to 14 days of the procedure. In around three to four months, the effects of the injections fade. The injections must be repeated every three to four months to keep your appearance fresh. Botulinum toxin is used to create the injections that are administered to the patients.
The injections are targeted to certain parts of the body. For the dermal fillers, unlike anti-wrinkle injections that target muscles, they are injected into the skin's dermal layer instead. For skin smoothing, varying amounts of filler are injected in varying amounts. Wrinkles and saggy skin can be instantly smoothed out using dermal fillers. However, the swelling is normally gone within 48 to 72 hours. The effects are expected to endure anywhere from six to twelve months. Every six to twelve months, the treatments should be repeated. From plant sources, sugar molecules are extracted and used to make dermal filler products. Lip injections with dermal fillers give the illusion of plumpness and a pouty smile.
What matters most when deciding between anti-wrinkle injections and facial fillers is the type of wrinkles you want to remove and the method by which you want them gone. For dynamic wrinkles, anti-wrinkle injections are the best option because it will limit their movement and appearance.. Facial movements and expressions cause these wrinkles to appear. Most often, they're placed above and between your brows. In the case of static wrinkles, which may be seen even when your face is relaxed and not showing any emotion, facial fillers are an excellent solution. In certain places, face fillers will help to restore their fullness.
Would you like to know more?
Schedule A Free Consultation Now
Alternatively you can give us a call at +60379321818